Pay Per Click Advertising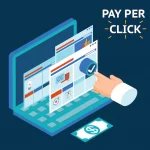 Pay Per Click (PPC) advertising is a type of digital marketing where a fee is paid to the various search engines when a user clicks on your ads which are prominently displayed in search results. Ranking for your keyword is very easy to achieve and almost instantaneous when using a PPC marketing strategy. You can rank for as many keywords as you pay for and you can pay for an almost infinite amount of clicks and traffic to your website with these ads. PPC pricing depends on the competitiveness of your industry as well as how many total clicks and site visitors you wish to have.
PPC Advertising Should Always Be Pared With Other SEO Marketing Services
While PPC advertising is definitely a fast way to get guaranteed site visitors, it comes at a very real cost. You are literally paying for each and every click and the moment you stop paying for the service the ads are no longer displayed and the traffic stops. PPC ad strategies work best when combined with long term organic white-hat SEO tactics for many reasons. This approach will provide valuable data that can be analyzed by your website's analytics software. A good analogy is to think of PPC advertising as renting temporary real estate in the search engines while organic SEO is like building and owning paid off property in the search engines. At Ohio Web Agency we can help you set-up your PPC advertising campaign as a stand alone strategy or in combination with one of our strategic SEO programs.
Pay Per Click Marketing Campaigns That Fit Your Needs AND Your Budget!
Popular Posts
OUR SERVICES